Original article
Open Access
Novel indole-bearing combretastatin analogues as tubulin polymerization inhibitors
Organic and Medicinal Chemistry Letters
2013
3:3
Received: 25 October 2012
Accepted: 13 February 2013
Published: 3 March 2013
Abstract
Background
The combretastatins are a class of natural stilbenoids. These molecules generally share three common structural features: a trimethoxy "A"-ring, a "B"-ring containing substituent often at C3′ and C4′, and an ethene bridge between the two rings, which provides necessary structural rigidity. Members of the combretastatin family possess varying ability to cause vascular disruption in tumors. Combretastatin binds to the colchicine binding site of β-subunit of tubulin. Despite having a similar name, combretastatin is unrelated to statins, a family of cholesterol-lowering drugs.
Results
New combretastatin 2-(1-acetyl-1H-indole-3-yl)-3-(phenyl) propenoic analogues (2a to 2y), bearing indole moiety at the place of ring A of combretastatin (CA4), were synthesized and evaluated for anticancer activity against various cancer cell lines such as THP-1 (leukemia), A-549 (lung), IGROV-1 (ovary), HEP-2 (liver), MCF-7 (breast), and DU-145 (prostate). Compound 2d showed anti-cancer activity against THP-1 and MCF-7 with IC50 0.80 and 0.37 μM, respectively, and 2y showed against MCF-7 with IC50 3.60 μM comparable to paclitaxel.
Conclusions
The target compounds bind to the colchicine binding site which is situated at α and β interface of tubulin and prevent polymerization as it was confirmed by immunofluorescence technique. The molecular docking further confirmed the binding of the potent compound 2d to the colchicine binding site at α and β interface of tubulin.
Keywords
Colchicine binding siteIndole-based combretastatinMolecular dockingTubulin inhibitors
Background
Tubulin is a useful biochemical target for various clinically used anticancer drugs like paclitaxel, vincristine, and vinblastine (Figure
1
) [
1
]. It plays an important role in the formation of the mitotic spindle which provides the structural framework for the physical segregation of the chromosomes during the mitosis [
2
]. Microtubules, made from tubulin are highly dynamic cytoskeleton elements in eukaryotic cells and play a critical role in various processes like mitosis, cell shape, intracellular organelle, transport and cell-cell interactions, and signal transduction [
3
,
4
]. They have highly polar structure and favor growth at the plus (+) end and shrinkage at the minus (−) end. This dynamic equilibrium can be affected by treatment with some agents like phenstatin, chalcone, lignan, colchicine, and podophyllotoxin ultimately prevent mitosis, thus used for cancer treatment [
5
,
6
]. Drugs which target tubulin interact with mitotic spindle and act by binding to the following binding sites: (1) colchicine binding site, (2) vinca alkaloid binding site, (3) rhizoxin/maytansine binding site, (4) tubulin sulfhydryl binding site, and (5) unknown binding sites [
1
]. Taxol binds to the
β
-tubulin of colchicine binding site and stabilizes microtubule against depolymerization. Colchicine binds to the
α
-tubulin of colchicine binding site and blocks the polymerization of microtubule [
7
]. Combretastatins binds to
β
-tubulin of colchicine binding site, strongly inhibits tubulin polymerization [
8
–
10
], and disrupts the normal mitotic spindle function [
11
]. It was first isolated from the bark of African willow tree
Combretum caffrum
[
12
]. Various analogues have been synthesized and showed very good anticancer activity by inhibiting tubulin polymerization [
13
]. Earlier synthesized compounds were having two rings in
cis
-configuration, but Pettit et al. have synthesized resveratrol type of compounds,
β
-nitrostyrenes, in which two rings are in
trans
-configuration and have marked antitumor activity. They also have synthesized E-indole nitrostyrene which showed marked anticancer activity [
14
]. Anticancer agents vincristine and vinblastine derived from
Catheranthus roseus
have been useful in cancer treatment, and this effect is due to the interaction of these drugs with tubulin [
8
,
15
]. It was thought worthwhile to incorporate another ring system having indole nucleus to rationally design combretastatin-like compounds replacing one ring with indole moiety because vincristine, vinblastine, elliptinium [
16
], and bromoindirubin contain indole moiety and have good tubulin polymerization inhibitory property [
17
]. Resistance remains a significant problem in the treatment of cancer with taxol like many chemotherapeutic agents, and it is caused by alterations in microtubule dynamics [
18
]. Our aim was to synthesize tubulin inhibitors having indole ring as basic moiety.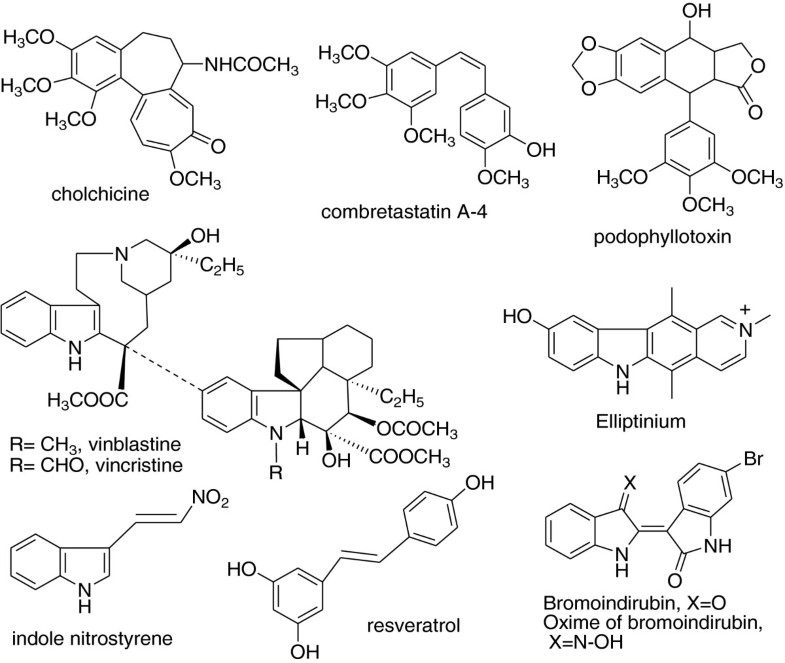 Methods
Combretastatin 2-(1-acetyl-1
H
-indole-3-yl)-3-(phenyl) propenoic analogues (
2a
to
2y
) were synthesized by condensation of indole-3-acetic acid with different substituted aldehydes using triethyl amine and acetic anhydride (shown in Scheme
1
). For anticancer activity, seven cancer cell lines like lung (A-549), ovary (IGROV-1), prostate (DU-145), liver (HEP-2), leukemia (THP-1), and breast (MCF-7) were used.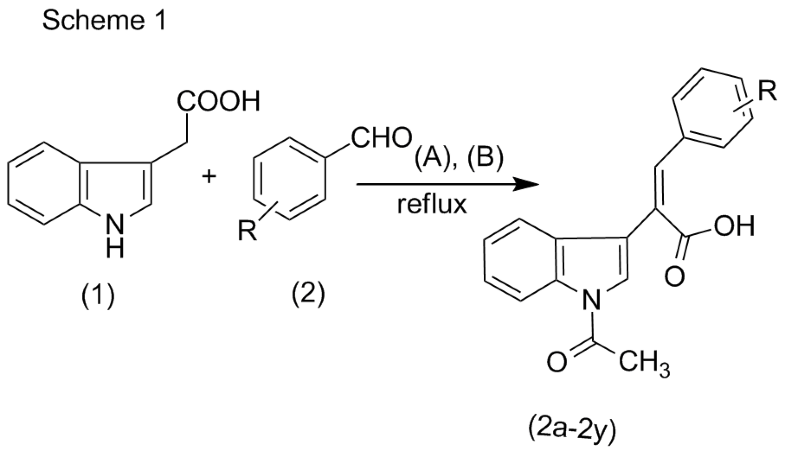 Materials and methods of immunofluorescence confocal microscopy
THP1 cells (8 × 10 [4] cells/well) were seeded onto 18-mm square coverslips in six well plates. Cells were allowed to adhere for 24 h before dosing with required concentrations of 2d. Paclitaxel 1 μM was used as a positive control. After the treatment period, cells were fixed in 4% paraformaldehyde for 10 min at room temperature and permeabilized using 0.5% Triton-X (Sigma-Aldrich, MO, USA) in PBS for 5 min. The cells were blocked with 10% goat serum for 20 min at room temperature. Microtubules were detected with a monoclonal α-tubulin antibody (Sigma Corporation, Cream Ridge, USA) diluted 1:100 in 0.1% Triton X-100 in PBS for 1 hr 37°C and Alexa Fluor 488 conjugated secondary antibody (Invitrogen, Carlsbad, USA) diluted 1:1,000 in PBS for 1 hr at room temperature. Cells were then washed three times in PBS and stained with DAPI diluted 1:1,000 in PBS [5]. The coverslips were mounted over glass slides, and the cells were imaged by confocal microscopy using an Olympus Fluoview FV1000 laser scanning microscope (Olympus Inc., Center Valley, USA).
Material and methods for molecular docking
The coordinates of tubulin were obtained from protein data bank [PDB:1SA0] [19, 20]. The structure of 2d was drawn in ChemDraw [21] and subjected to energy minimization in the MOPAC module, using the AM1 procedure and implemented in the CS Chem3D Ultra (Cambridge Soft Corporation, Cambridge, USA). The 2d was docked in to the colchicine binding site of tubulin using the GOLD 5.0.1 software [22]. GOLD performs genetic algorithm-based ligand docking to optimize the conformation of the ligand at the receptor binding site. It utilizes Gold score fitness function to evaluate the various conformations of the ligand at the binding site and comprises four components: protein-ligand hydrogen bond energy, protein-ligand van der Waals (vdw) energy, ligand internal vdw energy, and ligand torsional strain energy. The compound was docked ten times, and each pose was ranked according to its Gold score fitness function. The conformation with the highest score was selected for discussion.
Conclusions
A series of novel combretastatin analogues have been synthesized by condensation of indole-3-acetic acid with different substituted aldehydes, and structures were established by various spectral techniques like IR, MS, and NMR ([1] H, [13] C, HMBC, and HSQC). Configuration was established by lactone formation when hydroxyl group was present on second position of aldehyde. Further, it was confirmed by nOe (H-4′ intensity increased on double irradiation of H-3). Compounds were evaluated for anticancer activity. The effect on microtubule structure was determined using confocal microscopy dose-dependent disruption, and loss of microtubules indicates apoptosis by 2d. Binding of compound at colchicine binding site was established by molecular docking study. It was helpful to rationalize the inhibitory activity of these inhibitors. The carbonyl oxygen (carbonyl group at indole) forms a hydrogen bond with sulfhydryl group of Cys241β. This is similar to the interaction of colchicines with the tubulin. Another hydrogen bond was formed between the hydroxyl group of the carboxylic acid part of 2d and nitrogen of Leu255β. These two hydrogen bonds play a crucial role in stabilizing the conformation of 2d at the colchicine binding site. The activity of the synthesized compounds indicates that these can be promising anticancer drugs. To confirm their potency, further in vivo experiment will be required to address the anticancer property in cancer chemotherapy.
Declarations
Acknowledgments
The authors are grateful to the chairman of the ISF College of Pharmacy, Moga, and the director of the Indian Institute of Integrative Medicine, Jammu Tawi for providing facilities.
Authors' Affiliations
(1)
Laboratory for Drug Design and Synthesis, Department of Pharmaceutical Chemistry, Indo-Soviet Friendship (ISF) College of Pharmacy, Moga, India
(2)
Division of Bio-Organic Chemistry and Pharmacology, Indian Institute of Integrative Medicine (IIIM), CSIR, Jammu Tawi, India
Copyright
© Kumar et al; licensee Springer. 2013
This article is published under license to BioMed Central Ltd. This is an Open Access article distributed under the terms of the Creative Commons Attribution License (http://creativecommons.org/licenses/by/2.0), which permits unrestricted use, distribution, and reproduction in any medium, provided the original work is properly cited.