Original article

Open Access
Radiofluorination and biological evaluation of N-aryl-oxadiazolyl-propionamides as potential radioligands for PET imaging of cannabinoid CB2 receptors
Organic and Medicinal Chemistry Letters
2013
3:11
Received: 2 August 2013
Accepted: 15 September 2013
Published: 24 September 2013
Abstract
Background
The level of expression of cannabinoid receptor type 2 (CB2R) in healthy and diseased brain has not been fully elucidated. Therefore, there is a growing interest to assess the regional expression of CB2R in the brain. Positron emission tomography (PET) is an imaging technique, which allows quantitative monitoring of very low amounts of radiolabelled compounds in living organisms at high temporal and spatial resolution and, thus, has been widely used as a diagnostic tool in nuclear medicine. Here, we report on the radiofluorination of N-aryl-oxadiazolyl-propionamides at two different positions in the lead structure and on the biological evaluation of the potential of the two tracers [18F]1 and [18F]2 as CB2 receptor PET imaging agents.
Results
High binding affinity and specificity towards CB2 receptors of the lead structure remained unaffected by the structural changes such as the insertion of the aliphatic and aromatic fluorine in the selected labelling sites of 1 and 2. Aliphatic and aromatic radiofluorinations were optimized, and [18F]1 and [18F]2 were achieved in radiochemical yields of ≥30% with radiochemical purities of ≥98% and specific activities of 250 to 450 GBq/μmol. Organ distribution studies in female CD1 mice revealed that both radiotracers cross the blood–brain barrier (BBB) but undergo strong peripheral metabolism. At 30 min after injection, unmetabolized [18F]1 and [18F]2 accounted for 60% and 2% as well as 68% and 88% of the total activity in the plasma and brain, respectively. The main radiometabolite of [18F]2 could be identified as the free acid [18F]10, which has no affinity towards the CB1 and CB2 receptors but can cross the BBB.
Conclusions
N-aryl-oxadiazolyl-propionamides can successfully be radiolabelled with 18F at different positions. Fluorine substitution at these positions did not affect affinity and specificity towards CB2R. Despite a promising in vitro behavior, a rather rapid peripheral metabolism of [18F]1 and [18F]2 in mice and the generation of brain permeable radiometabolites hamper the application of these radiotracers in vivo. However, it is expected that future synthetic modification aiming at a replacement of metabolically susceptible structural elements of [18F]1 and [18F]2 will help to elucidate the potential of this class of compounds for CB2R PET studies.

Keywords
Blood–brain barrier
Cannabinoid receptors
18F labelling
Molecular imaging
Positron emission tomography
Background
Cannabinoid receptors (CBR) belong to the superfamily of G protein-coupled receptors (GPCR) and are involved in various physiological processes. Besides the CBR identified so far, the cannabinoid receptor type 1 (CB1R) [1] and type 2 (CB2R) [2], another GPCR natively interacting with endogenous cannabinoids (GPR55) has been proposed as a third type of CBR [3, 4]. While the CB1R is primarily expressed in the central nervous system, the CB2R is predominantly located in the periphery, especially in tissues related to the immune system. In pathological conditions, the up-regulation of CB2R expression is mostly associated with inflammatory processes [5, 6], neuropathic pain [7–9], Alzheimer's disease, and amyotrophic lateral sclerosis (ALS) [10–13]. It has also been shown that the activation of CB2R is connected with the induction of apoptosis in several cancer cell lines [14–17]. However, CB2R are also expressed in healthy brain under physiological conditions at very low expression levels [18, 19]. Therefore, the non-invasive quantification of CB2R in the brain, possibly in general by application of highly sensitive imaging techniques such as positron emission tomography (PET), requires the availability of radioligands binding with high affinity and high specificity towards CB2R [20]. Apart from the numerous specific pharmacologically relevant ligands of CB2R reported so far (see [21, 22]), only a limited number have been applied for the development of PET radiotracers for imaging of CB2R [23–29]. As we reported earlier, the increase of brain uptake and metabolic stability and decrease of non-specific binding remained as a challenge for further development [29]. Even a follow-up study on [11C]AZD1940 in non-human primate with PET confirmed a relatively low CNS exposure of this radioligand [28]. Mu et al. reported on N-(1-adamantyl)-8-methoxy-4-oxo-1-phenyl-1,4-dihydroquinoline-3-carboxamide as a 11C-labelled PET probe for imaging of CB2R [30]. Although the study showed a rather low brain uptake, and two blocking experiments with GW4058233 to demonstrate the specificity of brain uptake were not conclusive, the potential of the compound for PET imaging of amyotrophic lateral sclerosis has been proposed.
Further, a whole-body biodistribution and radiation dosimetry study of the CB2R ligand [11C]NE40 has been performed in healthy subjects [31]. It showed the expected biodistribution being compatible with lymphoid tissue (spleen) uptake and an appropriate uptake and kinetics in the brain. This underscores the potential of this tracer for application in central and peripheral inflammation imaging. Despite this considerable progress in CB2R PET imaging, a suitable ligand [32] radiolabelled with the advantageous longer-lived isotope 18F is still missing.
Recently, we reported on the synthesis, radiofluorination, and first biological investigation of the N-aryl-oxadiazolyl-propionamide [18F]2 as a potential radioligand for the PET imaging of CB2R [29]. Although the initial radiofluorination approach using a nitro precursor proved to be unsatisfactory (yields ≤ 3%), the promising biological findings encouraged us to revise and upgrade the radiosynthesis of [18F]2 and to perform a more detailed biological evaluation.
Methods
We describe an improved synthesis of [
18
F]
2
using a trimethylammonium precursor for the radiolabelling at the aromatic site of the lead structure (Figure
1
, compound
13
,
X
2
= NMe
3
+
I). In parallel, we explored the aliphatic radiofluorination at the carbazole
N
-alkyl chain (Figure
1
, compound
15
,
X
1
= OTs). The labelling of the lead compound at two different sites opens up the possibility to investigate the dependence of affinity, biodistribution and metabolism of these radiotracers on the site of radiolabelling.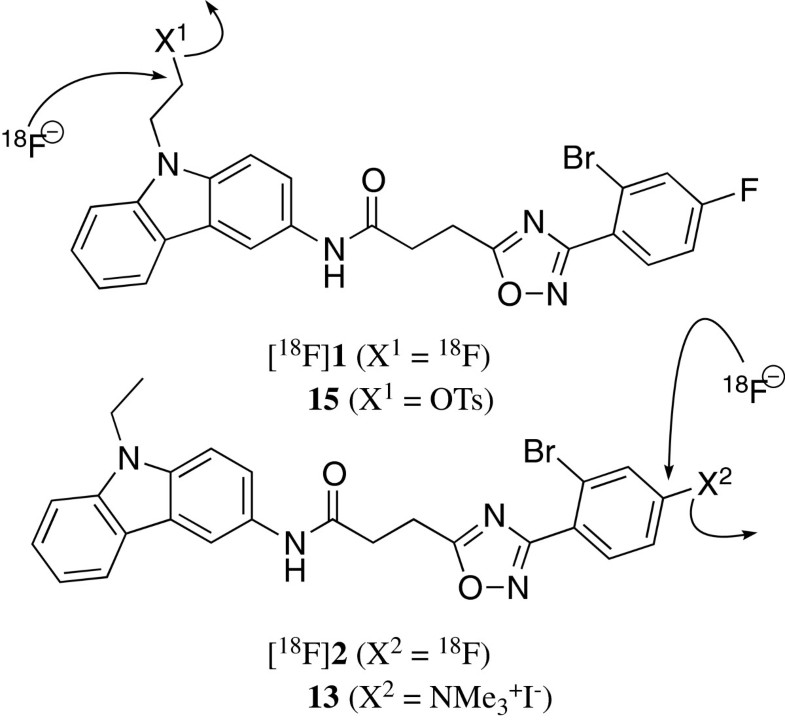 Conclusions
In conclusion, N-aryl-oxadiazolyl-propionamides were successfully radiolabelled with 18F at different positions. Fluorine substitution at these positions did not affect affinity and specificity towards CB2R. However, the radiotracers investigated in this study undergo a fast metabolism in vivo with the main radiometabolites crossing the blood–brain barrier. Therefore, structural changes in the enzymatic cleavage sites of the evaluated candidates have to be performed to enhance their potential as CB2R PET imaging agents for the brain.
Abbreviations
ALS:

Amyotrophic lateral sclerosis
CB1R:

Cannabinoid receptor type 1
CB2R:

Cannabinoid receptor type 2
CHO:

Chinese hamster ovary
COMU:

(1-Cyano-2-ethoxy-2-oxoethylidenaminooxy)dimethylamino-morpholino-carbenium hexafluorophosphate
DCM:

Dichloromethane
DEE:

Diethyl ether
DIC:

N,N′-diisopropylcarbodiimide
DMF:

Dimethylformamide
EtOAc:

Ethyl acetate
fc:

Flash chromatography
GPCR:

G protein-coupled receptors
ID:

Injected dose
IH:

Isohexane
MeI:

Methyl iodide
mp:

Melting point
NCA:

No-carrier added
p.i.:

Post injection
PET:

Positron emission tomography
PFA:

Paraformaldehyde
RCY:

Radiochemical yields
Succ anh:

Succinic anhydride
THF:

Tetrahydrofuran
TLC:

Thin-layer chromatography
XtalFluor-E:

Diethylaminodifluorosulfonium tetrafluoroborate
4-DMAP:

4-dimethylaminopyridine.
Declarations
Acknowledgements
This work has been supported by the DFG (project BR 1360/12-1). The authors wish to thank the Institute of Analytical Chemistry of Universität Leipzig, Faculty of Chemistry and Mineralogy for the NMR spectra as well as Juliane Schaller for the technical assistance.
Authors' Affiliations
(1)
Department of Neuroradiopharmaceuticals, Institute of Radiopharmaceutical Cancer Research, Research Site Leipzig, Leipzig, Germany
(2)
Department of Pharmaceutical and Medicinal Chemistry, University of Münster, Münster, Germany
Copyright
© Teodoro et al.; licensee Springer. 2013
This article is published under license to BioMed Central Ltd. This is an Open Access article distributed under the terms of the Creative Commons Attribution License (http://creativecommons.org/licenses/by/2.0), which permits unrestricted use, distribution, and reproduction in any medium, provided the original work is properly cited.